Using Web Deploy is a nice and easy way to publish websites and web applications with Visual Studio. However, I found one thing that can be a bit of a blocker, that didn't seem to be explained anywhere very well.
Let's imagine I administer a webserver that hosts the site www.something.com. I've installed the Remote Management tools for IIS and the Web Deploy stuff, and have also configured the site to allow Web Deploy. I now try and deploy using Visual Studio, with the settings below: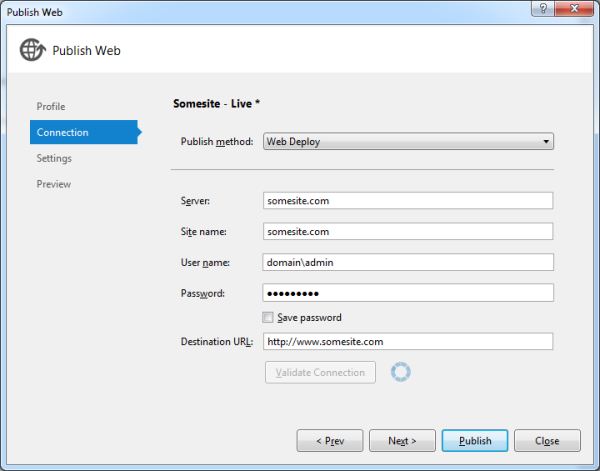 Validating the connection fails with the message:
'Could not connect to the remote computer "somesite.com". On the remote computer, make sure that Web Deploy is installed and that the required process ("Web Management Process") is started. [more stuff] ERROR_DESTINATION_NOT_REACHABLE.
So what do we try first?
Check the Web Deploy feature is installed on the server, it is.

Check the Web Management Process is running, it is.
Check port 8172 is open, it is.
Read up on similar issues, they say the same as the above.
I spent quite some time pulling my hair out over this - is it because I'm on a different domain? Is there some other port that needs to be open too?

Now the error says 'could not connect to the remote computer "somesite.com"' - so maybe the issue is here. I try the IP address, www.somesite.com and the IP address with the port 8172 specified - no joy.

It turns out, that even though it says 'Server' in the first box (leading us to think it would be the address of a server we need), it's actually the server with http specified. Change the Server from somesite.com to http://www.somesite.com and it works a charm.

Not the most exciting post ever, but hopefully this'll save someone else wasting the same amount of time that I did.